Welcome to my stop on In the Hot Seat with The Hot Chocolates! We are one of the teams created by Nori at Read Write Love as part of the Book Blogger Creativity Project. Our team has devised a set of bookish questions for each of us to answer this week.
A big thanks to Olivia @ The Candid Cover, I modeled my post after yours because it was so pretty!
Questions from Olivia @ The Candid Cover:
Are you a fan of book-to-movie adaptations? If so, which is your favourite?
I am a book lover so of course I love book-to-movie adaptations.  I never want stories to end so getting to see a movie of my favorite book is always something I am excited about.  Now this doesn't mean that some of the book-to-movie adaptations aren't awful!  I have loved Harry Potter, the Hunger Games, and don't shun me but Twilight.
Do you ever have crushes on characters in books? Who is your current crush?
Hmm I do and don't.  I feel like one can never be old to have a book crushes.
Questions from Elizabeth @ Thoughts from an Evil Overlord
How long does it take you to pull together a review after you've read the book?
If I loved the book it takes me no time at all.  I HATE writing book reviews for books that were meh or that I hated.  I don't do snarky very well and I run out of things to say for meh books.  However, for books that I love so I feel like I can just gush about it for days.  
Do you read ahead or skip certain elements in a book? Why?
I am totally guilty of two things, skipping boring parts and reading the ending first.  I absolutely hate cliff hangers so if there is one I usually want to know ahead of time.  I also really hate unhappy endings.  Tough crowd…..I know right.  
Questions from Milka @ Read.Read.Read.
Which book would you like to see turned into a film or a TV series? Who would you cast for the roles of the main characters?
I really loved Beautiful Disaster by Jamie McGuire, I would love to see that made into a film!  I would also really like to see the Splintered series by A.G. Howard as either a TV series of film.  
Which fictional character would you like to go on a date with? What would you do?
Ok, I would really LOVE to hang out with Hermione…not necessarily a date though.  
  I think it would be so fun to go book shopping or to a library.  
Questions from Kat @ Books and Sensibility
What is the last book you pre-ordered or purchased the day it came out ?
I just ordered the new 10 year anniversary Twilight book and the Harry Potter illustrated edition but haven't got them yet.  Before that, I ordered Queen of Shadows by Sarah Maas.  I waited a really time to read it though because I was scared after I saw some spoilers.  .
Which author do you think is amazing that you feel l like doesn't get enough love ?
There are so many great authors out there that go unnoticed.  But two of my favorites are Mindy Hayes and T. Rae Mitchell.  Check their books out you guys, they are awesome!
Questions from Alice @ Alice's Book Vault
What book, if there is one, has given you the worst book hangover?
I despise emotional book hangovers and my worst ever was Taking Chances by Molly McAdams.  I mourned over this book for days even weeks.  
What series do you wish would never end? That you could always get more of?
Of course…..Harry Potter! 
Questions from Wesaun @ Oreos and Books
If you had to face your biggest fear or fears with a character to be your guide along the way, which would you choose?
Luna Lovegood would such a good life companion!  She would be able to give you a different perspective on everything.  
What's a book that would inspire you to do a cosplay/nail art/clothing/other? Why?
I am a total Harry Potter nut, I even have a HP tattoo!
Questions from Brittany @ The Passionate Bookworms
What is the last book you DNF'd? At what point did you stop and why?
I DNF'd Spelled this summer, I was really pumped for it because I love the Wizard of Oz.  
What do you think the next trend of books will be? For a long while it was dystopian, what is your prediction for the next big genre?
I have some really great high fantasy lately.  I don't know if it is a new trend BUT it seems like more books are coming out in the genre.  I also don't think that dystopian is totally over either.  
Questions from Nori @ Read Write Love
If you could visit any world in any book, which world would you visit?
This is a really easy choice for me: Harry Potter!!! I would want it to be post-Voldemort of course.  
What character do you think could be your best friend?
I would love to have Luna Lovegood as a best friend or Hermione of course.  

Questions from Tee @ Me, Books and the Internet
Which book character do you think you're most like? Why?
Hmmm I have no idea, I really can't think of anything.  
Have you ever read a book that had a moment that happened to you in real life? If, what book and what moment?
Since I read mostly fantasy…..not really.  Although, I would love for this world to be a little more magical.  
Questions from Elly @ A Hufflepuff's Thoughts
Choose one shelf from your bookshelf.  What does it look like? (take a picture)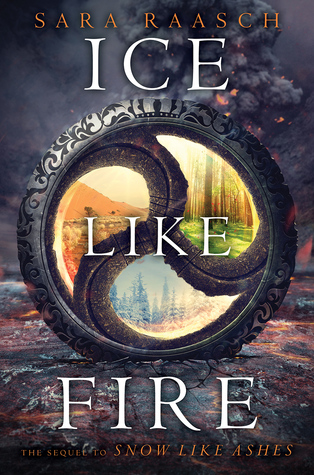 I loved this world and the heroine in this book!  
If you could have any animal/ non-human character from any book, who/what would you choose and why?
I would want a pandora from Fire and Flood!  
Thanks for following along with our project! Each day this week, our team will post a new response from one of our members. Stay tuned for Milka@ReadReadRead and her post tomorrow!