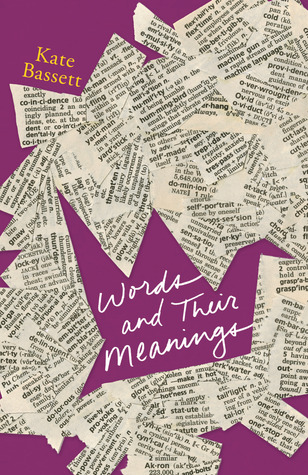 Words and Their Meanings
Genres:
Contemporary
Published by
Flux
on September 8th, 2014
Goodreads
Anna O'Mally doesn't believe in the five stages of grief. Her way of dealing with death equates to daily bouts of coffin yoga and fake-tattooing Patti Smith quotes onto her arms. Once a talented writer, Anna no longer believes words matter, until shocking discoveries– in the form of origami cranes– force her to redefine family and love.





As Anna goes in search of the truth, she discovers that while every story, every human being, has a last line, it might still be possible to find the words for a new beginning.
One of the most beautiful and gut wrenching reads of 2014!  Grief and guilt are a powerful combination.  Anna O'Mally has both of these emotions to the point that I couldn't read this book in one sweep.  The emotions were so heavy that my heart couldn't handle it all at once.  The writing was beautiful, especially the poems that Anna wrote.
This book is so good that it is simply hard to write a review.  Grief and guilt change Anna's path from a promising writer to a person so misguided that she is unable to clearly see the world around her. Her grief has changed her into someone who needs to practice daily "coffin yoga" and a Patti Smith look alike (GOOGLE HER).  She is unable to begin her day without inscribing a quote from Patti Smith on her arm, it is her daily verse.   The quotes she chooses are actually quite beautiful but at times very dark.  This book has some very dark mysterious turns when Anna begins uncovering secrets of her beloved uncle Joe, who has recently passed.  Through her discoveries she finds out that not all those that are perfect in our eyes live without secrets.
The words in this book are so incredibly moving that no matter where one is in life you can relate to them.  I  really felt for Anna because she thinks she is alone in her grief but her family suffers along side of her just very unbeknownst to her.  I see this a lot has a high school teacher, way too often teenagers feel alone and don't think anyone could ever understand them!
I would recommend this book to anyone that loves YA or contemporary.   If you loved The Truth about Alice by Jennifer Mathieu and Faking Normal by Courtney Stevens then this book is for you!
I will read this book again and again!