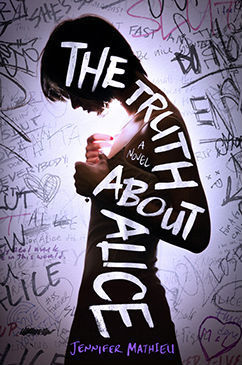 The Truth About Alice
Genres:
Coming of Age
,
Contemporary
,
YA
,
Young Adult
on June 3rd, 2014
Goodreads
Everyone has a lot to say about Alice Franklin, and it's stopped mattering whether it's true. The rumors started at a party when Alice supposedly had sex with two guys in one night. When school starts everyone almost forgets about Alice until one of those guys, super-popular Brandon, dies in a car wreck that was allegedly all Alice's fault. Now the only friend she has is a boy who may be the only other person who knows the truth, but is too afraid to admit it. Told from the perspectives of popular girl Elaine, football star Josh, former outcast Kelsie, and shy genius Kurt, we see how everyone has a motive to bring – and keep – Alice down.
I can honestly say that I have never been sucked into a realistic YA fiction like I was for The Truth About Alice.  As a high school teacher,  I have definitely heard of a few horror stories that have dealt with bullying and how fast gossip can spread with social media.  I also grew up in a small town where gossip spread at an alarming rate before the days of social media.   The Truth About Alice is told from multiple POV's and jumps a bit in the beginning  but by the middle of the book, I had all the characters figured out.
The rumor is that Alice slept with two guys in one night and making matters even worse one of the guys, who is a beloved football star, dies in a car crash not too long after.  AND to make matters even worse, everyone thinks Alice killed him.  The story follows several characters and their accounts of what really happened and their truth's about Alice.  I was absolutely horrified to read other people's side of story but I couldn't help but to keep reading and to find out what the truth was.  All too often I see that teens believe what they hear and do no second guess the rumors.  This is very easy to see in this story.
Overall, does this book make you have feels, no definitely not.  But the topic is intriguing enough to make you keep reading and the actual truth about Alice isn't necessarily something I saw coming.